Hog Roast Hemel Hempstead's catering services cover a broad spectrum of events and special occasions of all sizes and styles. Our delicious hog roasts can be paired with a variety of other dishes depending on your requirements, and we offer bespoke catering packages that will satisfy your budget as much as your tastes.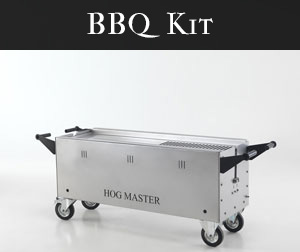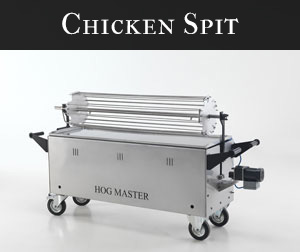 Unbeatable Hog Roast Catering For Any Number Of Guests
If you need food for a large-scale event that provides quality, quantity and great value for money, our hog roast catering services will give you exactly that. We select the most expertly reared free-range pork in the UK and place it in the talented hands of our hog roast chefs to produce the most flavoursome and succulent pork imaginable. Our traditional slow cooking method draws out the pork's natural flavour whilst retaining its moist and melt in the mouth texture. We can provide perfectly cooked pork on a grand scale, whilst always maintaining the same consistently high standard of preparation and presentation.
We can provide irresistible pulled pork sandwiches topped with homemade apple sauce and crunchy crackling or carve and present our epic hog roast as the impressive centrepiece of a more varied meal. Whether it is served by itself or accompanied by other tasty freshly made dishes, our hog roasts always steal the show at every event we cater for.
Diverse Dishes To Please All Tastes
Whether you want a casual yet tasty meal for your guests or you want to dine in style, Hog Roast Hemel Hempstead's versatile catering team have what it takes to tick all of your event catering boxes. In addition to our fantastic hog roasts, we have a plentiful supply of other dishes to choose from too, all which showcase the best locally sourced ingredients and seasonal produce that the area has to offer.
From different meats to vegetarian and vegan friendly food, we can offer your guests exactly what they need. We can supply buffets, party platters and formal dining dining menus for all manner of occasions and we will tailor your menu to meet the specific requirements of your event.
Our expert event planners will listen closely to wishes and advise you on the optimum menu for your event and your budget, whilst leaving the final decision up to you. We will plan every part of your menu meticulously and offer you an exciting hog roast catering package that is unique to your event. Everything will be made from scratch at your venue on the day by our skilled catering team and beautifully presented right on time for your guests to enjoy.
Events We Cover
Here at Hog Roast Hemel Hempstead, we have a very flexible approach to catering, and we ensure that our food is suitable for any occasion. We supply enticing modern mobile menus for weddings, corporate entertaining, corporate hospitality and Christmas parties. We are also a great local catering choice for local festivals, market,  outdoor concerts and other community events.
Whatever type of event you have in mind, please let us know and we're sure to be able to offer you the ideal, custom-made menu for the occasion, full of freshly made dishes that will impress your guests.
If you haven't already done so, please check out our menus page so that you can see for yourself how balanced and varied our catering packages area. If you would like to discuss any aspect of our hog roast catering services in more detail or you have any special requirements when it comes to the food for your big day, please give us a call to speak to a member of Hog Roast Hemel Hempstead's helpful and knowledgeable team.