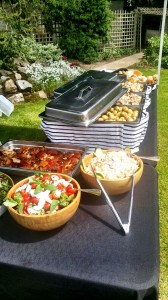 Spitting Pig Hertfordshire are the South East of England's premier hog roasting company. We have been hog roasting for five years as well as catering for many years longer and have the skill, experience and know how to make your event a day to remember. We started as a small family business, working part time as well as holding full time jobs .Our daughters were our first waitresses and still help out today. One is even a vegetarian but still happy to help although she does prefer to serve the salads and potatoes. We have now built up a team of about sixteen staff, including chefs and very experienced waiting staff. The one thing that sets us apart from other hog roasters is our approach to our work. We actually enjoy what we do and so do our staff. We have selected some very lovely people to work alongside us and as well as obviously getting paid for their work, they all enjoy the buzz and the atmosphere of hog roast catering and you will always see a smile on their faces. When we cater for you, it's personal. We take great pride in what we do and that is why we have so many repeat bookings and recommendations.
Simply The Best Hog Roasts
Catering for private parties, weddings or corporate events is not just about turning up on the day, cooking a pig and getting out of there as quick as you can which some caterers seem to think is the way to work, but actually talk to the client, listen to what they want and advise if necessary, and above all work within your own capabilities. Our approach with the staff we have, is do jobs properly, act professional and have the right staff for the right jobs and that is why we feel we are the best choice for hog roasts in Hertfordshire and the South East.
Fancy a hog roast, but like the idea of cooking and carving your self, let us deliver a machine to you (with or without a pig) and you can take control of your own party and impress your friends with your chef skills.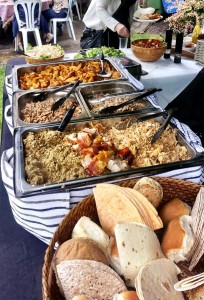 This really is a very cost effective way to cater for friends and family at almost any occasion and its so easy. Just let us deliver your machine with a hog racked and prepared, ready to cook or if you are supplying your own pig, just the machine and pole to stick it on. You can forget slaving away in the kitchen for hours on end, preparing buffet food and nibbles and then being too tired to enjoy the day, just sit back, let the pig slowly cook, filling your garden with a tantalising mouth watering aroma and wait for your guests to arrive, enjoy some drinks, then simply carve the hog and enjoy the succulent and delicious tender meat, which a hog roast guarantees. Add a few simple salads or even potatoes and you have a meal which will leave your guests fully satisfied and a day you can also sit back and enjoy with out the stress of preparing all afternoon. When we deliver the machine and gas we will talk you through how to operate the machine safely and correctly and if you are supplying your own pig, we will explain how to rack the pig ensuring you fully understand before we leave.
Experienced Mobile Event Caterers
Spitting Pig Hertfordshire has grown from a small part time hog roast business five years ago into a very successful and thriving franchise of Spitting Pig a national company with the skills, experience, and backing and is leading the way forward in spit roast catering in the South East of England.
Spitting Pig Hertfordshire is ideally located to cater for any event from a hog roast in St Albans to a wedding in Watford. Cooking has always been a passion and we have had a small part time catering business over the last twenty years which has been ideal while our children were small. But after going to a friend's 40th Birthday party and having our first experience of a hog roast (which was cooked in what I would call a modified oil drum) we decided to look into hog roast catering and here we are now. Both of us having given up good jobs and now hog roast catering full time with a team of great chefs and assistants who all equally have the same passion for cooking as we have.