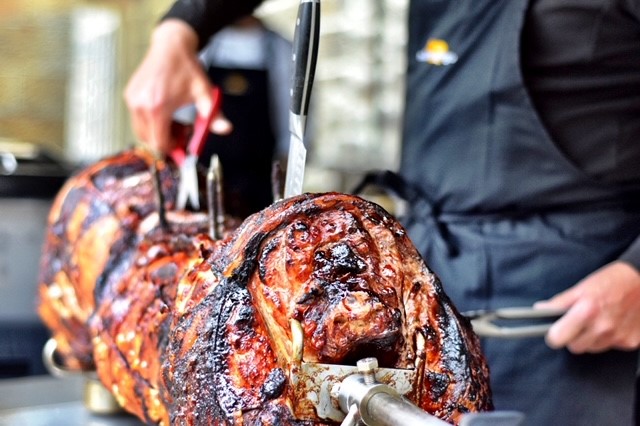 Hog Roast Ware are ready and waiting to make your big day extra special with our hog roast catering services. The catering is often one of the most important aspects of any event, so we are here to ensure everything goes to plan. Our team have over two decades of industry experience and know exactly what it takes to please your guests with top class food. Our chefs have worked in some of the finest restaurants and have polished their skill in cooking hog roasted meat to total perfection.
Our hog roasts care carefully prepared and cooked fresh on the day of the event so that you can appreciate the very best taste and texture when it is served to you. All of our ingredients are sourced from the best local suppliers. All our meat is free range in order to ensure your food is of the highest quality. As a result of our high standards and thorough preparation, we very rarely receive negative comments and have built a reputation as one of the leading catering companies in Herefordshire.
Hog Roast Ware Can Serve Your Food However You Like!

Your food can be served to you in your desired style. For a more casual approach when you're holding a private event amongst friends, you may prefer a simple hog roll drizzled with our delicious apple sauce on a plate. However, if you're holding a wedding reception or corporate function and keen to make an impression, we can serve your dishes to your table by a team of smart and friendly waiting staff.
Alongside hog roasts, we also have a selection of other tasty dish options including beef, chicken, lamb, duck, fish and so much more. Don't eat meat? Don't worry – we have a number of freshly prepared vegan and vegetarian dishes available. Please let us know if you have any dietary requirements and we will be happy to make the relevant plans for you.
Please get in touch with Hog Roast Ware today to find out more about how we can give you a first-class catering experience without the hefty price tag.