It seems like a lot of you have your sights set on our Gourmet BBQ Menu this summer, and who could blame you? This irresistible compilation of tender and juicy chicken kebabs, meaty marinated spareribs, gourmet sausages and who could forget our handmade British beef burgers (yum!) are perfect for bringing family, friends and even strangers together at this time of year!
This tantalising spread has proved so popular, in fact, that every Saturday from now until September (yes, September!) is almost fully booked with cookouts. But if you're a little bit late to the party and don't want to miss out on having Hog Roast Cheshunt cook one of our sublime spreads for you, don't panic. You'll be glad to know that we do still have some of those coveted weekend spaces available in our diary, but if none of these suits, then we would be delighted to introduce you to our other menu options, for which we still have an abundance of slots free.
Our signature hog roasts, for example, offer a brilliant alternative to traditional barbeques. The theatrical experience that comes with slow-roasting a whole pig and the mouth-watering flavours that result from hours upon hours of cooking the meat over a low flame, until it is fork-tender and unbelievably moist, is one that your guests will never be able to forget! Not to mention the variety of sides available, which makes all of our menus even tastier.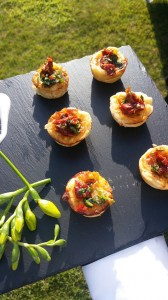 We can also offer formal dining solutions, too. Some of these include the potential for a drinks service, canapés, starters, desserts and additional main course options, which can be tailored to suit the exact needs of your event. What's more, you will find that all of our feasts include the option of vegan and vegetarian-friendly dishes, which means you'll be able to handle all of your guests' dietary requirements in one easy peasy phone call. So, even if you do miss out on the chance to taste our BBQ Menu this year, we're confident that you won't be disappointed!
If this sounds like the perfect way of spending your Summer, then just say the word, and Hog Roast Cheshunt will be there!