Raising money for a good cause is something that made its way into many of our New Year's resolutions, and while the majority of our good intentions get put on the back burner due to the ever growing busyness of our everyday lives, Olivia was determined not to let this be the case with her midnight promise. Devoting herself to helping one of the many charities she holds dear, she came up with the idea of organising a small-scale fundraising event which would be open to her entire friends' list, relatives and also members of the local community.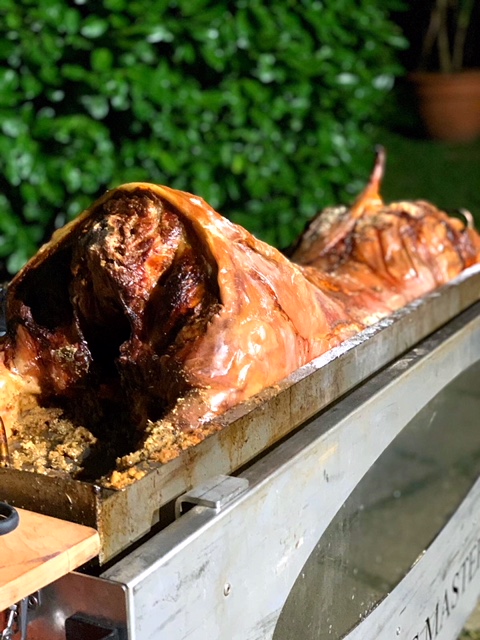 Of course, no event would be complete without some delicious grub on the go, and with this being her first attempt at a charity fundraiser, Olivia decided to get in touch with Hog Roast Codicote. Desperate to get everything right, the client had asked us to serve a menu that would make everyone feel included.
With an estimated number of between 150 to 200 people set to attend the special day, our catering manager recommended our crowd-pleasing classic hog roast menu with a meat-free alternative and a side option of loaded fries. Grateful that the food was in the capable hands of Hog Roast Codicote, Olivia turned her focus to the day's entertainment which included face painting for children and a live music performance, courtesy of her brother's band, for the adults.
As the day of the fundraiser neared, Olivia got in touch to update Hog Roast Codicote on the venue, which was an open field that offered plenty of room for our team to set up our cooking equipment. On Sunday, the big day finally arrived, and aiming to complete the buffet by 3pm, the catering crew arrived on site a handful of hours early.
Cooking up a storm, the team whipped up a feast of golden fries smothered with slaw, jalapenos and pulled pork; which were centred by a slow roasted pig with all the trimmings and grilled veggie skewers with optional haloumi. Olivia's first fundraiser couldn't have gone any better and in between enjoying the mouth-watering food and the fun activities she had organised, the guests donated a generous amount of cash to the cause.