When it comes to hosting your own special occasion, be it a milestone birthday, engagement do, corporate event or even your wedding day, it can be fairly stressful organising the food, let alone cooking and serving it, never mind the cleaning up afterwards. So why not let Hog Roast Ampthill take that stress off of your shoulders, so that you can sit back and relax and enjoy the event just like your guests, and especially enjoy the gorgeous homemade food that we serve as part of the menu you can actually design yourself.
While sometimes one of our menus is perfect as it is, like our famous hog roast rolls that look, taste and smell divine, you might have something else in mind, or you may want to have additional or alternative dishes too. Whatever you have in mind, Hog Roast Ampthill can do you proud and impress your guests no end.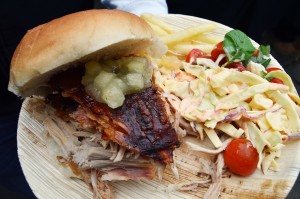 We recently catered an engagement party at a local school that hires out its assembly hall for all kinds of events. Vivienne and Daniel both work at the school and Vivienne called us to ask if we could cook and serve a feast inside the hall, which we could easily do, as we often cook inside if needed, and as long as there is enough ventilation and it's a large enough space, it's not a problem. Vivienne and Daniel were both looking forward to us cooking a fat hog for their party, as they had loved devouring our pigs in buns in the summer at a friend's wedding, and decided there and then they would ask us to cook for their next party – and then Daniel proposed, which meant they needed to book us in for this special occasion!
On the day of the party, our Hog Roast Ampthill team turned up at the school in the morning, hours before the teatime service, and prepared and roasted the hog from scratch. Before we knew it, the hog was resting, and we were slicing the bread rolls, dishing up our own tasty stuffing and tangy apple sauce and the guests starting queuing up, with the happy couple itching to be fed first!