Hog Roast St Albans is all about fresh, homemade food made by dedicated professionals who know how to make sure our customers and their guests are more than satisfied. In terms of service, we ensure that it is top-notch each and every time, and in terms of our food, we are proud to make hog and spit roasts from local, high-quality ingredients. Nevertheless, we also make so much more than you can imagine. In addition to our hog and spit roasts, we can also barbecue meat, provide multiple-course menus, various sides or even a drinks and canapés service, and we also make lots of different dishes for those with dietary needs if required as well.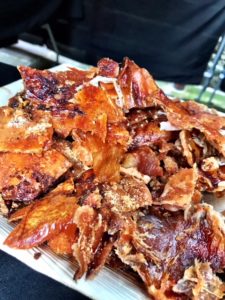 When Jodie contacted Hog Roast St Albans to book our catering services, she knew she wanted us to make our delectable pigs in buns for most of the forty guests, but she also needed to cater a vegetarian. While we can make some lovely homemade veggie options fresh on the day of your party or event, such as stuffed peppers or mushrooms, mac and cheese or quiche, Jodie asked us to make our highly popular grilled veg skewers, which feature halloumi cheese, baby tomatoes, mushrooms, mixed peppers, courgette and red onion, which we serve in pitta bread with our Tzatziki dip.
On the day of Jodie's private party at a local hotel, our Hog Roast St Albans chef and team members set up our equipment outside in the grounds, with our gazebo protecting us from the rain. The guests would be eating inside the marquee right next to where we were cooking. Before long, we had the hog cooking away, after lovingly preparing the meat from scratch, and we just needed to keep an eye over it as it sizzled away for the next few hours.
Nearer to the time we would be serving, our team got on with preparing the halloumi and fresh veg for the skewers and then they were grilling to perfection. By the time that Jodie and her guests had all arrived, we had piles of amazing pigs in buns ready to be devoured, and some tasty skewers for the vegetarian guest, and the queues began inside the marquee.