Hog Roast Bishops Stortford just had a great time catering Nikki's grandmother's 90th birthday locally. We're asked to cater all kinds of parties and events, both locally and further afield, and we work together with other franchises to ensure all areas are covered. When Nikki called us to book the celebration, she asked us to make our delicious pigs in buns for more than fifty guests, and to also provide a vegetarian option. We are often asked for additional dishes so that guests on special diets can also enjoy our food, including vegan and gluten-free, and also extra dishes just to give guests more choice, but whatever your needs, as long as we know in advance, we will make it happen.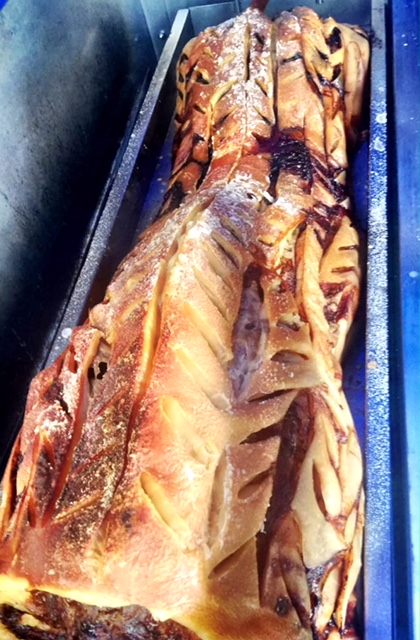 The vegetarian dish for this party would be our veggie kebabs, so on the day, our Hog Roast Bishops Stortford chef and team members headed to the local school, which hires out its large hall, together with our hog roast machine and a fat local hog, as well as the ingredients for the pigs in buns and the skewers.
First, we set up our equipment inside the school hall and then prepared the locally-sourced meat, by scoring it, adding lots of water and then massaging in plenty of salt. We need to keep it moist as it cooks slowly for hours, and the salt makes that crispy crackling that everyone loves. Once it was all prepared, our chef set the temperature low and turned the machine on, and then watched over it as it sizzled away for ages.
Later on in the day, while the hog was cooking, we prepared the halloumi cheese and fresh vegetables of tomatoes, mushrooms, peppers, red onion and courgette for the skewers, which we could grill nearer the time of service. Once the meat was resting, we grilled the kebabs and we still had ample time to get the pigs in buns ingredients ready. Once the fresh bread rolls had been sliced and arranged with wraps, we set out the serviettes and condiments and dished up our own apple sauce and stuffing, and then finally, the hog roast rolls and skewers were ready to be devoured so Hog Roast Bishops Stortford could serve the guests.