Hog Roast Shillington frequently cater church community events, but they were especially excited to cater the latest church social, which was an entertaining evening of Bingo, open to the church going community. The event was being given for the most vulnerable members of the church community, so the clients wanted something very special for their guests.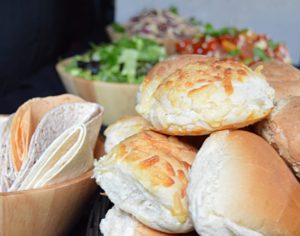 The clients worked with the Hog Roast Shillington catering team to make a menu that would delight the taste buds of the 55 guests. The buffet menu included, of course, the well-known team favourite of a Classic Hog Roast, consisting of a slow roasted pig, stuffing, crackling and apple sauce. But it also included lots of other tasty food choices like vegetable and halloumi wraps, loaded fries and a seasonal, fresh leafy green salad. All the bread products that were to be used as part of the buffet were gluten free, so that all guests could consume the products, even if they had a gluten allergy or intolerance.
As the event was to take place at the church hall, the Hog Roast Shillington Chef and assistant had plenty of time to access the event in the hours leading up to the 8pm serving time. As soon as they arrived the small team set up their cooking equipment and got to work, all the delicious dishes were made fresh at the venue in the hours leading up to the event.
Also, as part of the catering package the clients has chosen, the Hog Roast Shillington team provided high quality disposable cutlery, crockery and napkins for the guests to use. The Chef and assistant would also discreetly tidy away the waste at the end of the event and take it away with them to dispose of it safely and responsibly.
Even though the weather was blustery on the night of the event, the games of bingo and social interaction for the vulnerable people in the community went ahead without a hitch. The whole event was a lot of fun and the clients were thrilled with the team's hard work