We were recently contacted by Susie and Chris, whose wedding reception we had catered for last year. They told us that they had enjoyed Hog Roast Ashwell's food so much that they wanted to hire us to do it all over again to celebrate their 1st wedding anniversary! Unlike their wedding reception however, which had 200 guests in attendance, they wanted a smaller and more low-key anniversary party and had decided to host it at their own home for 30 members of their family and close friends.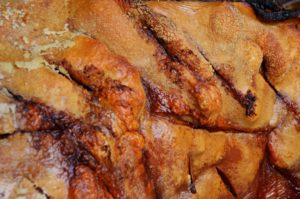 When they first got back in touch with us, they weren't sure if we would be able to cater on a much smaller scale in their own garden, but we quickly reassured them that we can cater anyway for any number of people! Thanks to our streamlined cooking equipment and multi-skilled catering team, we can provide awesome food in any environment without taking up too much space, including the decking area of Susie and Chris's back garden!
They opted for some of our classic hog roast sandwiches served with our signature crispy crackling and homemade apple sauce, along with a variety of salads, coleslaw and cous cous, and warm buttery new potatoes
Our menus may differ greatly, but regardless of the size of the event, here at Hog Roast Ashwell, we always make everything from scratch on site, and we spent a pleasant day in the couple's garden slow roasting our superior pork and freshly preparing all of their other dishes!
When everyone started to arrive at 6.30pm, we had a fabulous feast waiting for them, and we enjoyed seeing some familiar faces at our serving table who had been at the couple's wedding the year before! Everyone agreed that the food was just as good as it had been at the wedding reception and they couldn't believe that we could cater just as effectively for a much smaller party in a more intimate venue!
Susie and Chris had a lovely night celebrating their first year of marriage and they were very glad that they had asked the Hog Roast Ashwell team to do the honours all over again!